Carl Cox boeken
Carl Cox boeken voor uw feest of evenement? Dan bent u bij ons artiestenbureau aan het juiste adres! Op deze pagina vindt u een indicatie van de prijs en kunt u tevens direct een offerte opvragen. Bij ons ontvangt u altijd dezelfde dag nog een offerte. Mocht u echter eerst advies willen over uw evenement of nog vragen hebben, neemt u dan vrijblijvend contact met ons op via info@cas-events.nl, bel naar 071 – 203 22 98 of chat met een van onze adviseurs.
Biografie van Carl Cox
A musical ambassador since he was in short trousers, a professional DJ since his early teens, a veteran of acid house and a champion of techno – you name it, Carl's been there and done it, never losing sight of his passions – playing music, breaking tunes, spreading love and celebrating life. 2010 was another phenomenally busy year for Carl. He launched Intec Digital, the digital return of his seminal Intec Records, with exclusive releases from some of the biggest names in techno. He also launched his first ever iPhone App, giving fans the opportunity to get all the latest news, tour dates, exclusive photos, videos and new music at the touch of a button, whilst also providing direct access to Carl's record breaking Global radio show, which now reaches over 12 million listeners worldwide. He also released his first ever Global Underground album, 'Black Rock Desert,' put the finishing touches to his new artist album, due next year, played in venues across the USA, South America, Europe, the Far East, and Australia, and enjoyed his most successful Ibiza season to date, with the Revolution Continues, his 9th consecutive year at Space. It was at the tender age of 15, that Carl was given a set of turntables and began working as a mobile DJ. Disco was the first music that captivated him but by the early 80s Cox had moved on to playing the same music as other young London DJs – rare groove, New York hip-hop and electro. He was perfectly placed to hear Chicago house music in its earliest forms, and when the epic 'Acid Trax' by Phuture (a.k.a. DJ Pierre) came out in early '87. "It was then that I thought, 'This is it,' says Carl. "I would do my parties, and I'd play old rare groove and hip hop and soul and I would say 'Right you've got to hear this Phuture track' and people would just stop. It's funny because all the people who thought I had freaked out then are the people who are making the music now." As a founder of the sound, Carl rode the exploding British rave scene. He played the opening night of Danny Rampling's legendary Shoom, co-promoted The Project with Paul Oakenfold, held a residency at the Zap Club in Brighton and at the Sunrise rave in 1988, hooked up a third turntable for his dawn-breaking set, got 15,000 kids back on their feet, and established a personal rep for three-deck wizardry. The next step was to make music, and Carl's 1991 debut single for Paul Oakenfold's Perfecto label, 'I Want You,' gave him a top 30 hit and a Top of the Pops appearance. Two more singles also made the charts. But Carl was a reluctant pop star and as the masses moved onto fluffy house and trance, and the hardcore created jungle, Cox retreated into the club world that had nurtured him and instead embraced the underground sounds of techno. "Techno drives home somewhere," he says of his core music. "It takes you to an element of surprise, not knowing where you're going. It's scary but wonderful at the same time." Carl's classic releases include his 1995 mix CD, 'F.A.C.T,' which became a techno benchmark, selling over 250,000 copies, and the 1996 EP 'Two Paintings and a Drum,' which again broke the British top 30. Alongside Carl's 'Ultimate Music Management' company, which counted Josh Wink and Laurent Garnier among 27 clients, there was the Ultimatum record label, for which Carl recorded his third top 30 UK single, 'Sensual Sophis-ti-cat.' In 2005, Carl's third album, 'The Second Sign' caused a stir across Europe and reached number 3 in Spain's national chart. Also gaining critical acclaim was speaker freaker 'Dirty Bass,' a collaboration with Christian Smith, and the funky 'Give Me Your Love', both released on 23rd Century Records, an outlet for his own burgeoning production output. Carl formed his own label, Intec Records, in 1999, scoring a series of underground hits and enjoying eight years at the forefront of electronic music, before its closure in 2006. Since then Carl has never stopped receiving new music from budding DJs, and with the new digital world making record labels more economical to run, Carl decided to re-launch Intec at the start of 2010. It's been a triumphant return, thanks to exclusives from Yousef, Carlo Lio, Jim Rivers, Jon Rundell and Umek: "The label couldn't be going better," says Carl. "It's great to be back at the helm discovering underground DJs." Intec Digital will also be the home of Carl's much-anticipated new artist album, 'All Roads Lead to the Dancefloor,' due 2011. "It's the most forward-thinking album I've ever made," promises Carl. "I've missed making music and I'm really looking forward to finally getting it out there, especially as it's coming out on Intec." On top of this, there are plans to follow the already successful Intec live shows, with a full Intec world tour, featuring Carl and his label's artists, details to be announced. Summer 2011 will mark a landmark anniversary of Carl's now legendary Ibiza residency, as Carl Cox and Safehouse Management celebrate an astounding 10th consecutive year at Space. Marking a change in direction from traditional Ibiza parties, Carl and his Space revolution has always been acclaimed for its adventurous and forward-thinking line-ups, musical direction and state of the art production. This, along with Carl's highly involved and passionate role as promoter, programmer and host, is why each year has seen a growth and progression from the last, both in terms of quality and size, with 2010's The Revolution Continues being one of their most successful seasons yet. "We had a successful night because we just batten down the hatches and stick to what we do best, which is give value for money," explains Carl. "People came back to us, as they're big believers in our brand. Also Space is a great club, they've spent a lot of money on it, and it's just getting better and better. We had a phenomenal year and I promise 2011 is going to be even better." All this and still Carl's 'Global' radio show is breaking records, now reaching over 12-million listeners worldwide and syndicated across 60 terrestrial FM, Satellite and DAB stations throughout 35 countries, making him one of the most important broadcasters on the planet. With this, his iPhone App, Intec Digital, Ibiza 2011, and his highly anticipated new longplayer, Carl shows no signs of slowing down. "After the Ibiza seasons, after the festivals I've done, after my own events, albums and remixing," says Carl, "the story still continues in a massive way – there's so much more still to come."
Carl Cox boeken? Neem vrijblijvend contact met ons op voor meer informatie.
Wilt u Carl Cox boeken?
Op deze pagina vindt u meer informatie over Carl Cox. Ook kunt u vrijblijvend de prijs en beschikbaarheid opvragen.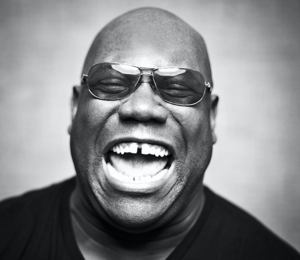 Prijsindicatie voor Carl Cox
Prijs: Op aanvraag
Duur: 1 x 60 minuten
Informatie: Excl. rider
Hierboven vindt u een prijsindicatie voor het boeken van Carl Cox. Wilt u weten wat de exacte kosten zijn, vraag dan vrijblijvend de prijs en beschikbaarheid op.
Prijs en beschikbaarheid opvragen
Offerte aanvragen
Prijs en beschikbaarheid opvragen
Onderstaand kunt u de prijs en beschikbaarheid van Carl Cox opvragen. De prijs en beschikbaarheid van Carl Cox opvragen is geheel vrijblijvend. Nadat u de aanvraag heeft doorgestuurd, nemen wij dezelfde werkdag nog contact met u op om de mogelijkheden te bespreken.
Bericht met succes verzonden. We nemen zo spoedig mogelijk contact met u op.